Tepanee Resort – Malapascua
Info on Tepanee Resort - Malapascua

Tepanee is a tranquil Italian owned and run resort. It is located only a few minutes walk from the dive shop, yet still isolated enough to really let you know you are on an exotic desert island. It is, we think, the best resort on the island, and it is very popular, so book early, especially for major holidays.
Each rooms comes with AC and one large bed. A single bed can be added on request. Also a minibar, safe for valuables and a balcony, some with with sea views. The deluxe rooms in particular have amazing sea views. 
Tepanee has a beautiful private beach, so you won't be bothered by vendors or people passing through. And for the last few years they have been nurturing a marine protected area just off the beach, including building an artificial reef. It is now thriving with life, with new coral and reef fish, and the previously skittish local population of blacktip reef sharks are now permanent residents. So you can easily snorkel with them from the shore, and they can even be seen from the balconies of the deluxe rooms. How fabulous is that?!
Zero impact water
Tepanee is the only resort on the island with a desalination-osmosis machines and so the only resort with true fresh waster for showering. Everywhere else you will find it is slightly salty and you never quite feel clean.  More importantly, this also ensures all water used has zero impact on the fragile water table of Malapascua, where the rest of the island gets its water, and no water is wasted. In recent times with increased tourism on the island and less rain, this can become a problem at certain times of the year, and the water gets even more salty. Even the bottled drinking water originated from water from the mainland which comes from the local reservoirs, so using that does not help the overall lack of water in the area.
Tepanee produces drinking quality water from rainwater and seawater, and they recycle wastewater for use in the gardens. So nothing is wasted, and no pollution escapes into the land or the sea. 
Facilities/Inclusions
Air conditioning and ceiling fan
Kettle with coffee and Twinings tea bags
Rooms come with a double bed as stanard, but a single bed can be added on request for twin/triple.
Minibar, complimentary bottles of water
Safety box, big enough for  a laptop 
Entrance door and windows with mosquito net and blackout curtains,
Balcony with sofa.
Free WiFi
Beach towels
Tepanee also offers:
Gym, for guests only
New outdoor Jacuzzi pool with 8 "seats", free, for guests only
New indoor spa (with aircon and scented mineral oil options)
Please be aware that the resort is located on a rocky outcrop, so there are some steps to climb. 
Deluxe

Cottages

These are independent units with a wonderful view of the ocean, the most beautiful of Malapascua.Spacious and bright, furnished with bamboo furniture and wooden floors, they have a wonderful terrace where you can relax reading or simply watching and listening to the ocean.You can also often spot the resident blacktip shark population meandering in the shallows just offshore 😍🦈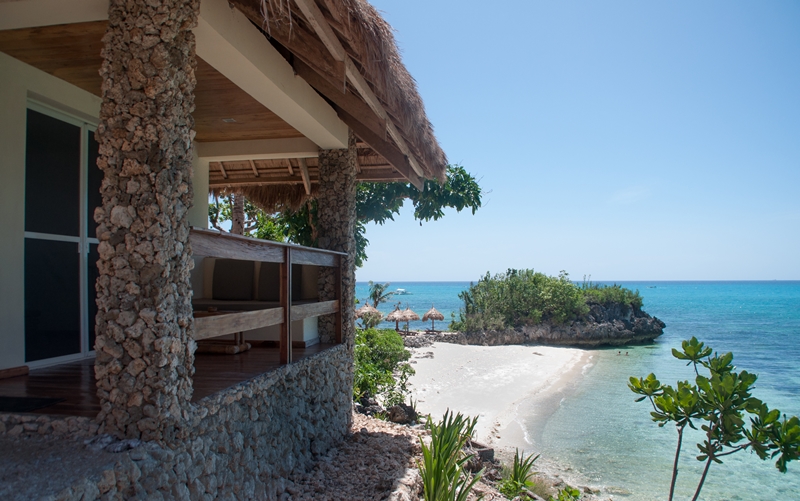 Deluxe room view
Standard

Cottages
The superiors
are independent cottages located in the central part of the Resort.Spacious and bright, furnished with bamboo furniture and wooden floors, they have a wonderful private terrace.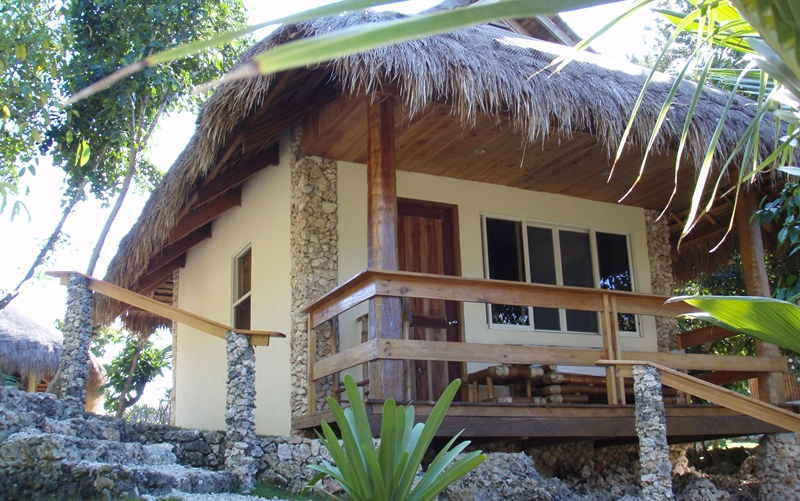 Standard

Rooms
The Standard rooms
are located in two-story villas and are located in the central area of the Resort, surrounded by our beautiful gardens full of tropical flowers.
Spacious and bright, they are furnished with bamboo furniture and wooden floors; equipped with a terrace where you can relax.
Booking your Resort with TSD
Because we do not own a resort, we will not bind you into a room that might not suit you. Tell us  your needs and we will suggest the perfect resort from the wide range of room types we offer to suit every need and budget.
We have several resorts we use regularly because of their high quality and service standards. But if you prefer something different, we are more than happy to help you find your perfect accommodation for your perfect vacation.
There are some great restaurants on Malapascua and we will show you the best the island has to offer in terms of food, one of the best of which is Oscar's, the rooftop pub and restaurant located above Thresher Shark Divers, and its baby brother on the beach, The Wilde Bar.